LOOK: Rakrakan Festival: Pinoy Muna!'s Stage And Artist Assignment
---
Feb 12, 2018 at 11:34 PM
Posted by : Pinoy Secret Writer
Filed Under : Entertainment
---
Music, Skate BMX Fixie, Merch, & Arts Festival
120+ Artists, 6 Stages, 1 Big Event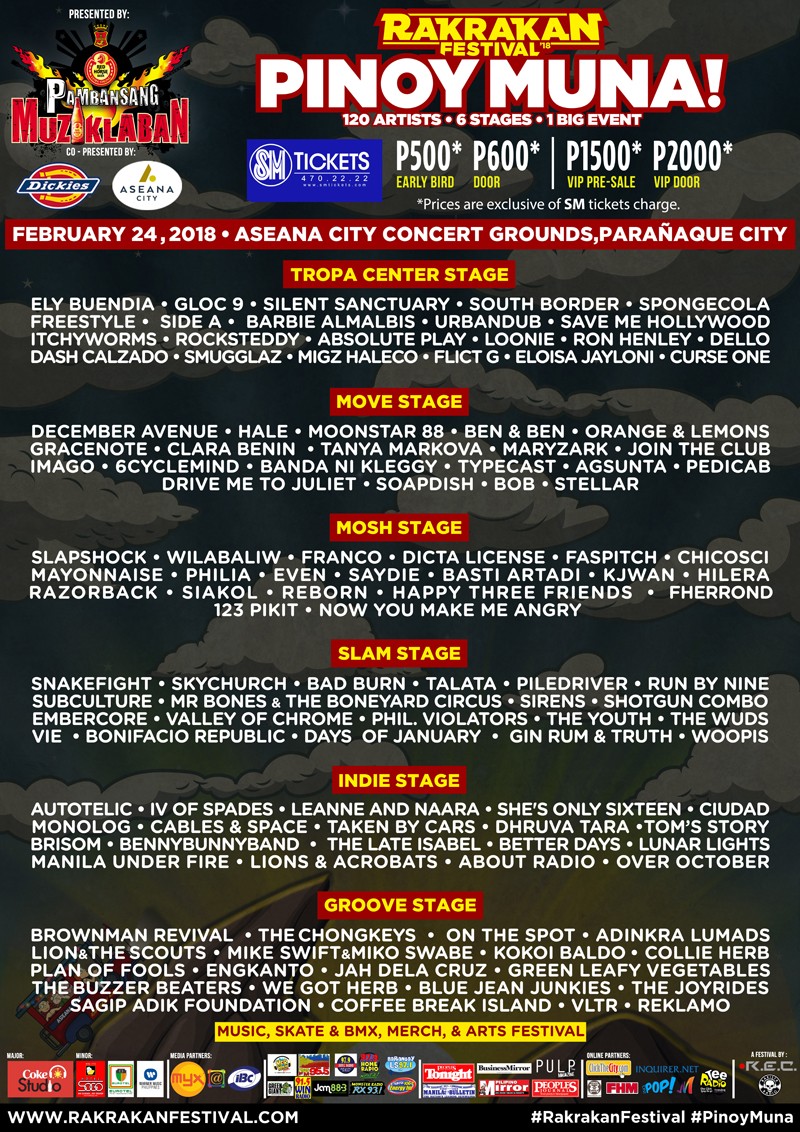 Another year, another round of making history in OPM! Rakrakan Festival just keep on getting BIGGER, LOUDER and BOLDER! And there's no stopping it! Get ready for a more diverse OPM selection, more stages to enjoy and of course, a whole lot of new activities to experience at the vast Aseana City Concert Grounds on February 24, 2018 for Rakrakan Festival 2018: Pinoy Muna!This year, we will be featuring 120 OPM artists, 6 Stages, a skateboarding exhibition and competition, Live Art contests joined by top universities, merch exhibit and many other thrilling activities.
Here are the stages and their respective artists:
MOVE STAGE
December Avenue, Ben&Ben, Orange&Lemons, Hale, Moonstar88, 6cyclemind, Join The Club, Banda ni Kleggy, Gracenote, Soapdish, Agsunta, Stellar, Pedicab, Imago, Typecast, Maryzark, Drive Me To Juliet, Clara Benin, Tanya Markova, Bob
MOSH STAGE
Slapshock, Franco, Mayonnaise, Dicta License, Happy Three Friends, Siakol, Wilabaliw, Chicosci, Razorback, Kjwan, Basti Artadi, Now You Make Me Angry, Hilera, Faspitch, Even, Philia, Saydie, 123Pikit, Reborn, Fherrond
TROPA CENTER STAGE
Ely Buendia, Gloc 9, Side A, Freestyle, Spongecola, Urbandub, Silent Sanctuary, South Border, Itchyworms, Rocksteddy, Loonie, Ron Henley, Save Me Hollywood, Barbie Almalbis, Dello, Smuglaz, Curse One, Flict G, Dash Calzado, Migz Haleco, Eloise Jayloni, Absolute Play
INDIE STAGE
Autotelic, Leanne and Naara, IV of Spades, She's Only Sixteen, Brisom, Over October, Lions & Acrobat, Better Days, Dhruva Tara, Taken By Cars, Tom's Story, Monolog, About Radio, Cables & Space, Ciudad, BennyBunnyBand, The Late Isabel, Lunar Lights, Manila Under Fire
SLAM STAGE
Valley of Chrome, Skychurch, Sirens, The Youth, Philippine Violators, The Wuds, Gin Rhum & Truth, Run By Nine, Piledriver, Embercore, Vie, Badburn, Mr. Bones & the Boneyard Circus, Woopis, Talata, Snakefight, Shotgun Combo, Subculture, Bonifacio Republic, Days of January
GROOVE STAGE
Brownman Revival, Lion & The Scouts, Kokoi Baldo & Juan Gapang, On The Spot, The Chongkeys, Engkanto, Collie Herb, The Joyrides, The Buzzer Beater, We Got Herb, Coffee Break Island, VLTR, Green Leafy Vegetables, Jah Dela Cruz, Mike Swift & Miko Swabe, Sagip Adik Foundation, Plan of Fools, Reklamo, Blue Jean Junkies, Adinkra Lumads Djembe Community
Tickets are NOW AVAILABLE at all SM Tickets Outlets NATIONWIDE!
Regular Pre-Sale: P400 (SOLD OUT)
Regular Early-Bird: P500
Regular Early-Bird Barkada Promo (Buy 4 + Get 1 Free)
Regular Door: P600
VIP Pre-Sale: P1500
VIP Door: P2000
*Prices are exclusive of SM Tickets charge
VIP comes with:
* Access to Move, Indie, Mosh, Slam, Groove, and Center Stage
* Express Entrance
* Re-entry is allowed
* Meet & Greet + VIP Area + DSLR Access
* Dedicated Portalette
* FREE access to fun slides
* FREE Red Horse Beer
* FREE Official Festival T-Shirt
* FREE Stickets + other freebies from partners
* FREE to skate + Freedom Wall + other activities
You can also buy online via https://smtickets.com/events/view/6232. For ticket inquiries call 470-2222
For updates, follow our Facebook RAKISTA and RAKRAKAN FESTIVAL or visit our website: www.rakrakanfestival.com
Presented by: Red Horse Beer
Co-Presented by: Dickies, Aseana City
Major: Coke Studio
Minor: Sogo Hotel, Eurotel
Media Partners: Myx, IBC, Asian Television Content, Business Mirror, People's Tonight, Peoples Journal, Manila Bulletin, Pilipino Mirror, FHM, MNL, Patparazzi PH, INQ Pop, When In Manila, Philippine Concerts, OPM Memes, Pinoy Secret Files, Orange Magazine, Interaksyon, One Music, Tee Radio, Flipgeeks, Clickthecity.com, We The Public, Jam88.3, Monster RX 93.1, Win Radio, 97.9 Home Radio, 91.5, Barangay LS 97.1, Energy FM 106.7, MOR 101.9, Green Giant FM, Pinas FM 95.5, Bandwagon, Inquirer.net
Event by: REC, Rakista Radio
Thanks to: Warner Music, Oishi, Monster Energy Drink, Task Us, Bosny, Segway, MGD
#RakrakanFestival #PinoyMuna
---
Feb 12, 2018 at 11:34 PM
Posted by : Pinoy Secret Writer
Filed Under : Entertainment