Autotelic X December Avenue: A Back-To-Back Gig
---
Jun 13, 2018 at 3:03 PM
Posted by : Marie Li
Filed Under : Entertainment
---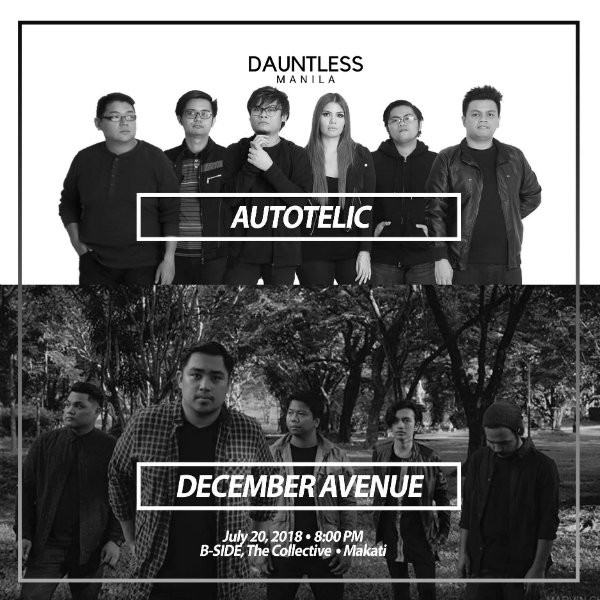 Manila, Philippines -Events & Video Production House, Dauntless Manila, is in on a roll this month. After the success of Hatag: Giving Back to the Community, they prepared another huge gig for this rainy month of June.
Two of the biggest indie bands in the Philippines will perform back to back in a one-night only event. Dauntless Manila Presents: Autotelic X December Avenue: A Back-To-Back Gig.
Alternative and indie band December Avenue consist of Zel Bautista, Jem Manuel, Don Gregorio, Gelo Cruz and Jet Danao, has been serenading us for a decade. Their hit songs are Eroplanong Papel, Sa Ngalan ng Pag-Ibig and Ears and Rhymes to name a few. The band is currently signed under Tower of Doom Music.
Autotelic is a Filipino indie-alternative rock band in Manila, Philippines. Formed in 2012, the band consists of Josh Villena (guitars and vocals), Kai Honasan-Del Rio (keyboards and vocals), Neil Tin (guitars), EJ Edralin (synth), Timothy "Pabs" Vargas (bass guitars), and Gep Macadaeg (drums and sampler). The band is currently signed with independent record label Nemesis Music Group, and major record label MCA Music. Some of their hit songs are Languyin, Gising and Misteryoso.
The band has gained a significant following in the Philippines since then, and has played alongside artists like Chvrches, Last Dinosaurs, Kimbra, Dishwalla and Martin Garrix, to name a few. In 2017, they released their debut album Papunta Pabalik. The band took part in Coca Cola's music collaboration project called Coke Studio Philippines, and they have recently won the Best Performance by a New Group Recording Artists category in the 2017 Awit Awards, the country's premiere music award ceremony.
Autotelic X December Avanue: A Back-To-Back Gig is happening on June 22, 2018, Friday at B-Side Makati, The Collective, Makati City.
The tickets will be sold in B-Side on June 22 upon entry for only 300 pesos. Gates will be open at 8:00 PM and show starts at 9:00 PM. For more details, visit Dauntless Manila's official social media accounts:
Dauntless Manila on Facebook
Dauntless Manila on Twitter
Dauntless Manila on Instagram
Images Courtesy of Dauntless Manila
Videos CTTO
---
Jun 13, 2018 at 3:03 PM
Posted by : Marie Li
Filed Under : Entertainment