Breakdown Music '18 (Updated Lineup)
---
Aug 25, 2018 at 6:24 AM
Posted by : Marie Li
Filed Under : Entertainment
---
Are you ready to witness a variety of OPM's greatest artists in a one night only event?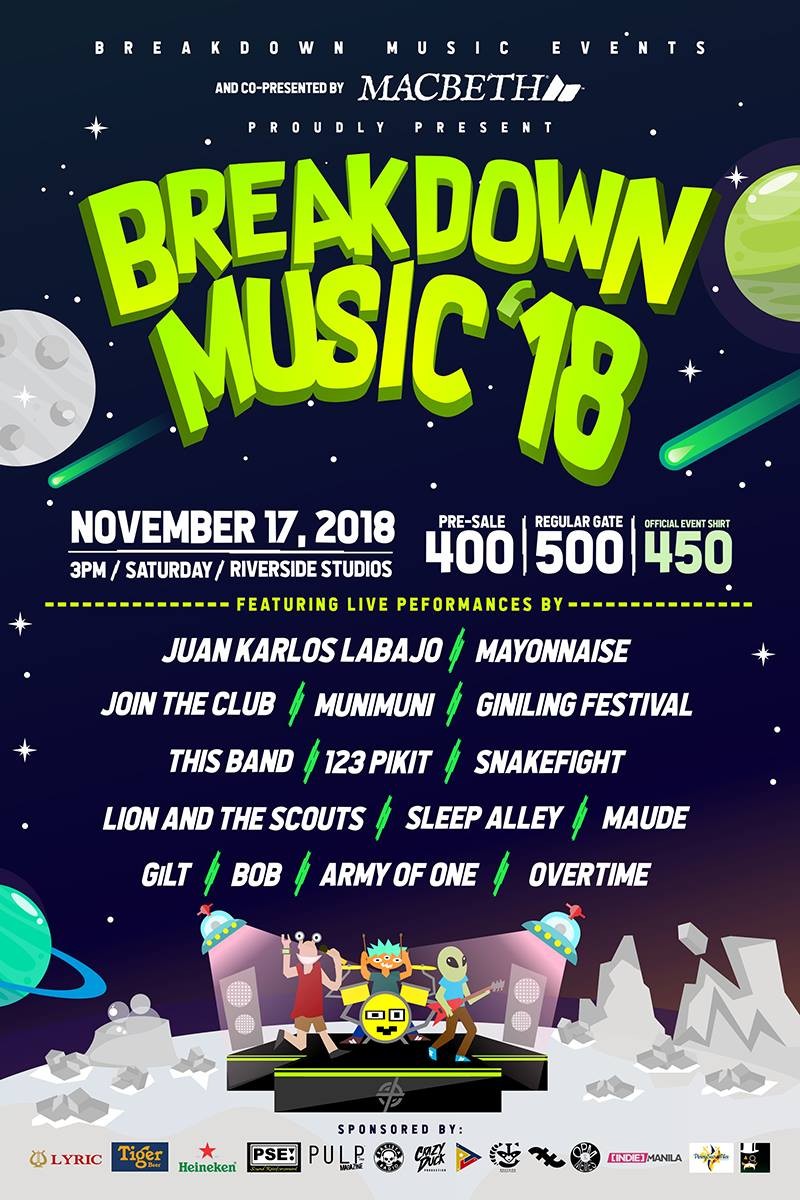 Manila, Philippines - Independent Music Production Powered by Rakista ng Metro Manila, Breakdown Music Events, brings you their biggest musical event to date.
Breakdown Music Events prepared a jam packed line up of OPM artist to perform their greatest hits in a one night only event.
Feast your eyes and enjoy the eargasmic live performances from:
Juan Karlos Labajo
Overtime (National University College of Engineering Augment 2018: Battle of the bands champion)
This will be one long night of good music happening on November 17, 2018, Saturday at Riverside Studios, 2320 S. Osmeña, Makati City (near Makati City Hall).
Tickets are available for pre-selling:
Php 350 = For students/ Alumni of National University. 1 ticket per person only. Present your school ID for students who are currently enrolled in NU. For the Alumni, kindly present your old student ID or any proof that you graduated in NU. Tickets are transferrable to NU STUDENTS only. For reservations and more infos, you may direct message your school mate, Michaela Dangaran for meet ups within the school grounds.
Php 450 = Pre - Sale tickets
Php 600 = Regular tickets
Php 1500 = VIP tickets
How to reserve and avail PRE SALE tickets?
1. Mode of Payment: (message Breakdown Music Events Facebook Page for bank details)
- Eastwest bank
- Metrobank
- Palawan Remittance
- Smart Padala
2. After Payment, take a picture of your bank receipt/deposit slip or transaction receipt.
3. Email your receipt picture to [email protected] . Subject of your email: PRE SALE TICKET.
Don't forget to include your NAME and AGE.
4. (1 to 3 days process)
Breakdown Music Events will send you the printable pdf file with your ticket code as a confirmation receipt.
5. Present your printed confirmation receipt at Breakdown Music '18 ticketing booth.
So what are you waiting for? Get your tickets now!
Images Courtesy of Breakdown Music Events
Videos CTTO
---
Aug 25, 2018 at 6:24 AM
Posted by : Marie Li
Filed Under : Entertainment