Chicosci X Autotelic: A Back-To-Back Gig
---
Jul 24, 2018 at 5:58 PM
Posted by : Marie Li
Filed Under : Entertainment
---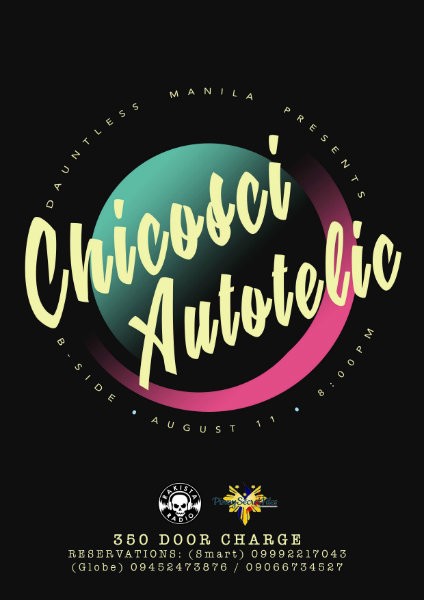 Events and Video Production House, Dauntless Manila has prepared another awesome gig for the month of August. After the success of Autotelic X December Avenue: A Back-To-Back Gig, Autotelic is back on Dauntless Manila's stage but now, with Chicosci.
Prior to the main event, some of the fastest rising OPM artists will be performing as well.
The 5-piece Filipino rock band, Chicosci is composed of Miggy Chavez, Mong Alcaraz, Macoy Estacio, Ariel Lumanlan and Eco del Rio.
The bands musical style consists of rock with an emphasis of experimentation from post-hardcore and emo, nu metal and rap metal to pop punk.
Just in time, Chicosci will be releasing a new music video of their newest single entitled Revelation! on August 9, 2018.

Autotelic is a Filipino indie-alternative rock band in Manila, Philippines. Formed in 2012, the band consists of Josh Villena (guitars and vocals), Kai Honasan-Del Rio (keyboards and vocals), Neil Tin (guitars), EJ Edralin (synth), Timothy "Pabs" Vargas (bass guitars), and Gep Macadaeg (drums and sampler). The band is currently signed with independent record label Nemesis Music Group, and major record label MCA Music. Some of their hit songs are Languyin, Gising and Misteryoso.
The band has gained a significant following in the Philippines since then, and has played alongside artists like Chvrches, Last Dinosaurs, Kimbra, Dishwalla and Martin Garrix, to name a few. In 2017, they released their debut album Papunta Pabalik.
The band took part in Coca Cola's music collaboration project called Coke Studio Philippines, and they have recently won the Best Performance by a New Group Recording Artists category in the 2017 Awit Awards, the country's premiere music award ceremony.
FUN FACT: Did you know that Chicosci's bassist Eco Del Rio and Autotelic's keyboardist and vocalist, Kai Honasan are real-life newly-married couple? *Kilig*
Chicosci X Autotelic: A Back-To-Back Gig is happening on August 11, 2018, Saturday at B-Side Makati, The Collective, Makati City.
Two of our favorite OPM bands will perform in a one-night only event, so what are you waiting for? Tickets will be sold at the event day upon entry for only 350 pesos. Gates will be open at 7:00 PM and show starts at 8:00 PM. For more details, visit Dauntless Manila's official social media accounts:
Dauntless Manila on Facebook
Dauntless Manila on Twitter
Dauntless Manila on Instagram
Images Courtesy of Dauntless Manila
Videos CTTO
---
Jul 24, 2018 at 5:58 PM
Posted by : Marie Li
Filed Under : Entertainment