December Avenue X I Belong To The Zoo: A Back-To-Back Gig
---
Aug 27, 2018 at 4:14 PM
Posted by : Marie Li
Filed Under : Entertainment
---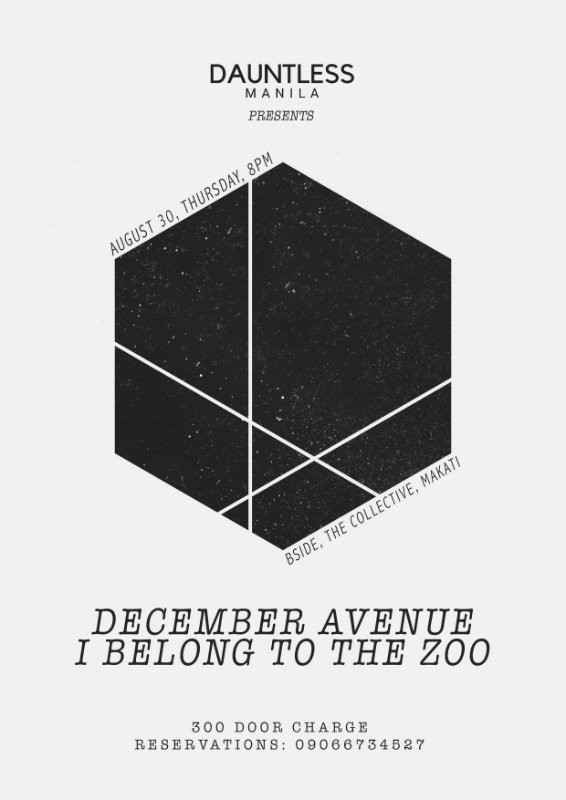 Manila, Philippines - Events & Video Production House, Dauntless Manila, is known for producing series of Back-To-Back Gigs by local indie artists. From Autotelic X December Avenue to Chicosci X Autotelic to name a few comes December Avenue X I Belong to the Zoo.
Alternative and indie band December Avenue consist of Zel Bautista, Jem Manuel, Don Gregorio, Gelo Cruz and Jet Danao, has been serenading us for a decade. Their hit songs are Eroplanong Papel, Sa Ngalan ng Pag-Ibig and Ears and Rhymes to name a few. The band is currently signed under Tower of Doom Music.
I Belong to the Zoo is the solo folk project of Tonight We Sleep's Argee Guerrero. It embodies Argee's more private musings, with songs characterized by hushed vocals and wistful verses. His songs are resonant of intimate experiences, inhabiting subtle acoustic melodies in the same terrain as the music of Keaton Henson, William Fitzsimmons, Damien Rice, and Dallas Green.
Tickets will be sold in B-Side, The Collective, Makati on August 30, 2018 (Thursday) upon entry for only 300 Pesos.
Gates will open at 5:00 PM and show will start at 8:00 PM. For more details, visit Dauntless Manila's official social media accounts:
Dauntless Manila on Facebook
Dauntless Manila on Twitter
Dauntless Manila on Instagram
Images Courtesy of Dauntless Manila
Videos CTTO
---
Aug 27, 2018 at 4:14 PM
Posted by : Marie Li
Filed Under : Entertainment