Filipinos May Now Travel Visa-Free In Taiwan
---
Oct 16, 2017 at 10:08 PM
Posted by : Marie Li
Filed Under : Travel & Adventure
---
Good news to all Filipinos. You may now visit taiwan visa-free!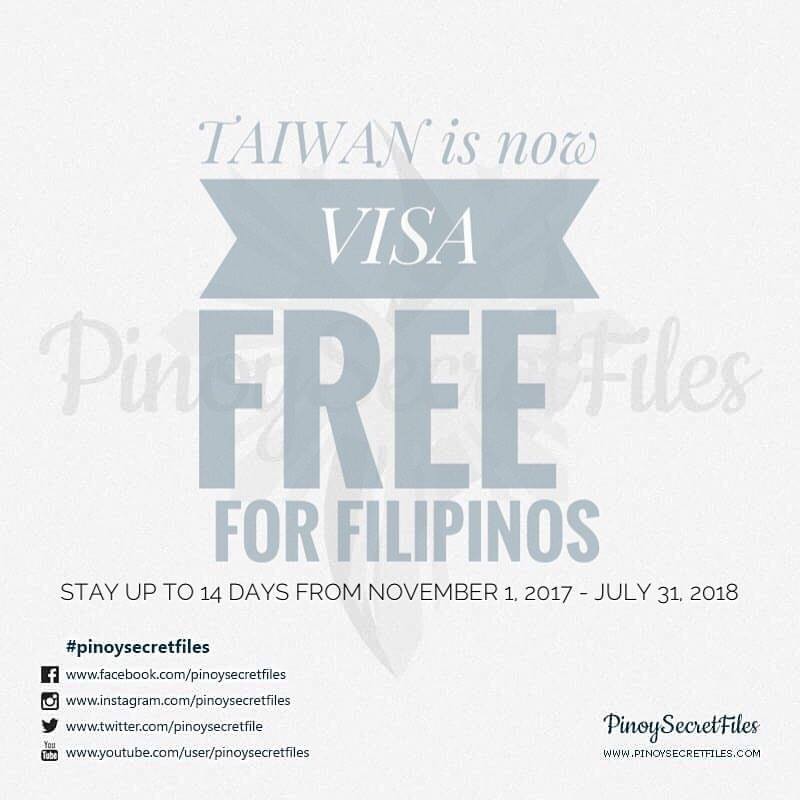 Manila, Philippines - Finally, the long wait is over. October 16, 207, Taipei Economic and Cultural Office (TECO) in the Philippines finally announced the much anticipated visa-free update for Filipinos.
Filipinos will be granted visa-free entry to the Republic of China (Taiwan, ROC) for holiday, sightseeing and a short-visit not exceeding 14 days as from November 1, 2017 on a trial basis, until July 31, 2018.
Starting from November 1, 2017, Filipino passport holders who intend to visit the ROC (Taiwan) for the purpose of business, visiting relatives, tourism, attending functions or events can enjoy visa-free entry to Taiwan, ROC, for a duration of stay up to 14 days. This visa-free initiative shall undergo a 9-month trial period until July 31, 2018. The initiative is part of Taiwan's goodwill and efforts of the "New Southbound Policy" to build closer people-to-people exchange of visits and an economic community between Taiwan and the Philippines.
In lieu, a Filipino visa-free visitor must meet the following requirements:
An ordinary/regular passport with remaining validity of at least six months from the date of entry ( Diplomatic & official passport holders are not eligible for visa-free treatment) ;
A return ticket or a ticket for the traveller's next destination and a visa for that destination if it is required;
No criminal record in Taiwan;
A proof of accommodation (hotel) booking or host/sponsor's contact information /or arrangements of tour, travel, visit, events and meeting etc.
However, those who intend to stay in Taiwan for more than 14 days or for the purpose of study, work, missionary, employment and other gainful activities are still required to obtain appropriate visas before entering Taiwan.
Since 2016, the Taiwan Government has endeavoured to liberalize and simplify visa regulations for Philippine nationals, including the free "Travel Authorization Certificate" (TAC) for qualified visa-free travellers and the payable e-visa (online visa). These two relaxed visa application systems will be suspended for Filipinos upon the implementation of the visa-free treatment as from Nov. 1, 2017. Passengers who enter Taiwan before Nov. 1 with valid TACs may continue to stay for up to 30 days. But for passengers who do not enter Taiwan before Nov. 1, their TACs will be no longer valid even within its validity. All approved e-visas before Nov. 1 (including the date) will still be valid to enter Taiwan with duration of stay up to 30 days. Those who have already obtained long-term & multiple Taiwan visas which have been stamped on their passports can still use their visas to enter the ROC (Taiwan).
For further ROC (Taiwan) visa information, you may check the website of TECO in the Philippines at http://www.roc-taiwan.org/ph.
Source: TECO in the Philippines
---
Oct 16, 2017 at 10:08 PM
Posted by : Marie Li
Filed Under : Travel & Adventure