Filmville Presents: Urbandub, Autotelic, BennyBunnyBand
---
Aug 07, 2018 at 1:38 PM
Posted by : Marie Li
Filed Under : Entertainment
---
You read it right! Urbandub and Autotelic is performing in a one night only event.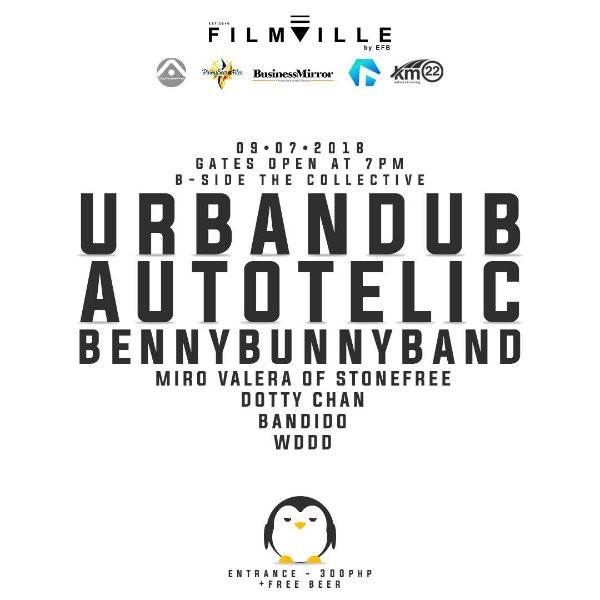 Makati, Philippines- Awtomatik Productions and Filmville Production proudly presents Urbandub, Autotelic and BennyBunnyBand in a one night only event.
Urbandub is a rock band from Cebu City. Since its inception in 2000, the band's line-up consisted of Gabby Alipe, John Dinopol, Lalay Lim, and JanJan Mendoza who joined in 2003. Urbandub is the first indie band in the Philippines to release albums nationwide with the assistance of a major label.
May of 2015 when the band decided to be in hiatus but in 2016, Gab and John reunited to reform Urbandub along with drummer Sam Saludsong and bass player Russ Manaloto. In 2018, Lalay and Jan Jan returned.
Autotelic is a Filipino indie-alternative rock band in Manila, Philippines. Formed in 2012, the band consists of Josh Villena (guitars and vocals), Kai Honasan-Del Rio (keyboards and vocals), Neil Tin (guitars), EJ Edralin (synth), Timothy "Pabs" Vargas (bass guitars), and Gep Macadaeg (drums and sampler). The band is currently signed with independent record label Nemesis Music Group, and major record label MCA Music. Some of their hit songs are Languyin, Gising and Misteryoso.
The band has gained a significant following in the Philippines since then, and has played alongside artists like Chvrches, Last Dinosaurs, Kimbra, Dishwalla and Martin Garrix, to name a few. In 2017, they released their debut album Papunta Pabalik.
The band took part in Coca Cola's music collaboration project called Coke Studio Philippines, and they have recently won the Best Performance by a New Group Recording Artists category in the 2017 Awit Awards, the country's premiere music award ceremony.
BennyBunnyBand is an electrifying three piece band composed of Benny Giron on ukulele, Ess Bobadilla on bass, and Jhenico dela Cruz on drums.
Aside from the above mentioned bands, there will also be performances from some of the country's independent acts:
Bandido
WDDD
Happening on September 7, 2018, Friday at B-Side, The Collective, with performances from today's hottest indie local artists in the music scene.
Gates will open at 7PM. Walk-in tickets are available for only PHP 300 with 1 FREE Drink. For pre-order tickets, you may check out their eventbrite and Facebook Event.
Image Courtesy of Filmville
Videos Courtesy of Green Turismo and AutotelicMusic, Bandido, RED8MUSICTV philippines, Miro Valera, Viva Records on YouTube
---
Aug 07, 2018 at 1:38 PM
Posted by : Marie Li
Filed Under : Entertainment