[LOOK]: GrabTaxi Driver Ditched A Passenger, Thought He Was Being Mistaken As Fake Taxi
---
Jan 17, 2017 at 11:12 PM
Posted by : Marie Li
Filed Under : Just For Fun
---
Another funny driver VS passenger story, this time from a Grab Taxi.
Manila, Philippines - Remember when the Fake Taxi inspired car was a hit with the netizens?
Apparently, one Grab Taxi driver thought he was mistaken as a Fake Taxi driver. These past few days, Globe Telecoms are having problems affecting cellular signals thus SMS/Calls aren't successful.
The passenger named Bea Ang, laughed it off tho, blaming Globe Telecoms' glitch.
Here is the conversation courtesy of Bea: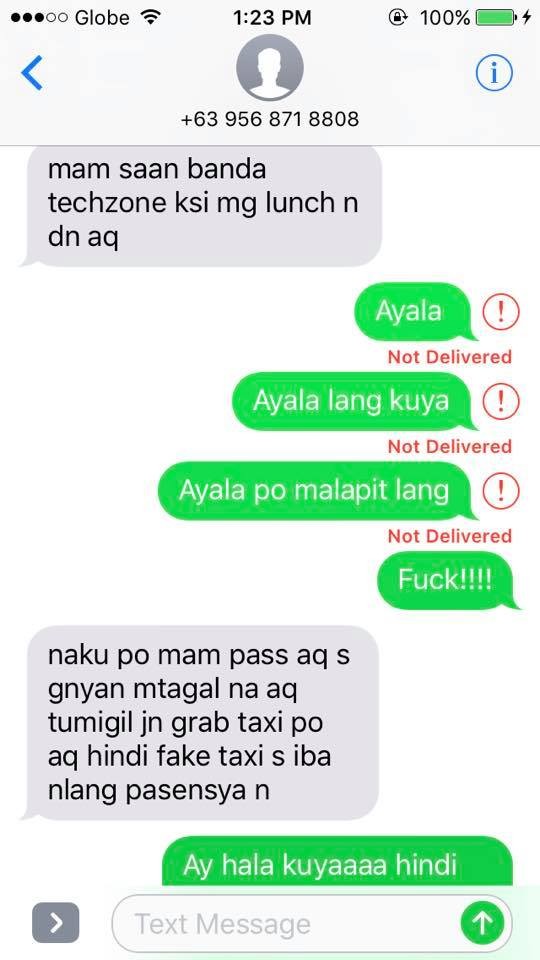 Do you have a funny Grab Taxi/Grab Car related story? Share it with us.
Image courtesy of Bea Ang.
---
Jan 17, 2017 at 11:12 PM
Posted by : Marie Li
Filed Under : Just For Fun