LOOK: Mini-Reunion Of 'TGIS' Casts
---
Sep 02, 2018 at 1:44 AM
Posted by : Marie Li
Filed Under : Showbiz
---
This is not a drill! Your favorite Saturday teen barkada reunited! Batang 90s Kapusos, where you at?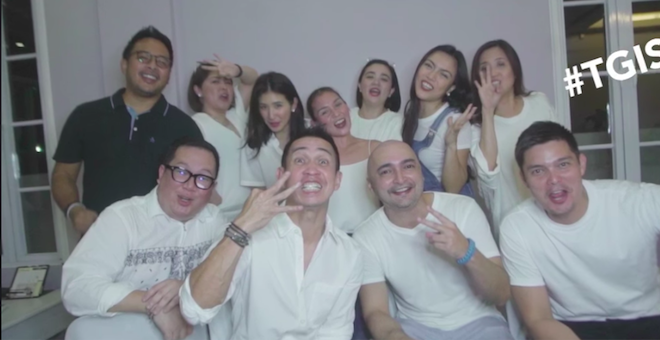 Manila, Philippines - T.G.I.S. is a Philippine television drama series broadcast by GMA Network. Directed by Mark A. Reyes premiered on August 12, 1995 and concluded on November 27, 1999 with a total of 233 episodes. It's been 23 years since the youth oriented drama aired on GMA 7 but the casts and the people behind the drama kept in touch and remained good friends.
Cast and characters
First batch (August 12, 1995 – May 31, 1997)
Bobby Andrews as Joaquin "Wacks" Torres III
Onemig Bondoc as Jose Mari "JM" Rodriguez
Angelu de Leon as Ma. Patrice "Peachy" Real
Michael Flores as Miguel "Micky" Ledesma
Rica Peralejo as Michelle "Mitch" Ferrer
Ciara Sotto as Regina "Rain" Abrera
Red Sternberg as Francisco Martin "Kiko" Arboleda De Dios
Raven Villanueva as Cristina "Cris" De Guzman
G. Toengi as Jacqueline "Jackie" Torres (Wacks' Twin Sister and Iñaki's older sister)
Mitzi Borromeo as Annabelle Morales
Lee Robin Salazar
Jake Roxas as Noel Sta. Maria
Bernadette Alysson as Beatrice "Bea" Santillan
Maybelyn dela Cruz as Maruja
Chico Ventoza as Gabby
Kim Delos Santos as Tere Gonzaga
Lester Llansang as Casper
Second batch (June 7, 1997 – November 27, 1999)
Dingdong Dantes as Iñaki Torres
Antoinette Taus as Bianca de Jesus
Polo Ravales as Inocencio "Ice" Martinez
Ciara Sotto as Regina "Rain" Abrera
Menchu Macapagal as Pia Lopez
Karen Joanne Organo as Kajo
Kim Delos Santos as Tere Gonzaga
Chubi del Rosario as Reyster
Chantal Umali as Happy
Ardie Aquino as Benjo
Idelle Martinez as Samantha Real
Sunshine Dizon as Carla "Calai" Escalante
Anne Curtis as Emily or "Em"
Dino Guevarra as David
Jam Melendez as Jag
Kenneth Cajucom as Marci
Maui Taylor as Bridget
Aiza Marquez as Billie
Casts including the writers and directors held a mini-reunion with an "all white theme" to celebrate the shows 23rd anniversary hosted by Ciara Sotto who appeared on both seasons. Here are some of the snaps and videos of the exciting reunion.
#TGIS23 the reunion video highlights ???? I remember how this show was so much part of my teenage years ???? @dongdantes @pinaypole @angeludeleonrivera @ricaperalejo @m_sunshinedizon

Posted by Nice Print Photography & Exige Weddings on Saturday, 1 September 2018
The meet up was attended by Angelu De Leon, Dingdong Dantes, Chantal Umali, Sunshine Dizon, Michael Flores, Rica Parelejo-Bonifacio and directors Mark Reyes and Dominic Zapata and writer Kit Langit were also in attendance.
Our 90s teen heart is super kilig and we can't wait to have a reunion show (fingers crossed).
Images and Video Courtesy of Nice Print Photography & Exige Weddings
---
Sep 02, 2018 at 1:44 AM
Posted by : Marie Li
Filed Under : Showbiz