LOOK: Shakey's Pizza Gives Job Opportunity To Persons With Down Syndrome
---
Feb 28, 2018 at 8:07 PM
Posted by : Marie Li
Filed Under : Food & Restaurants
---
Kudos to Shakey's Pizza for setting a good example as an equal opportunity employer.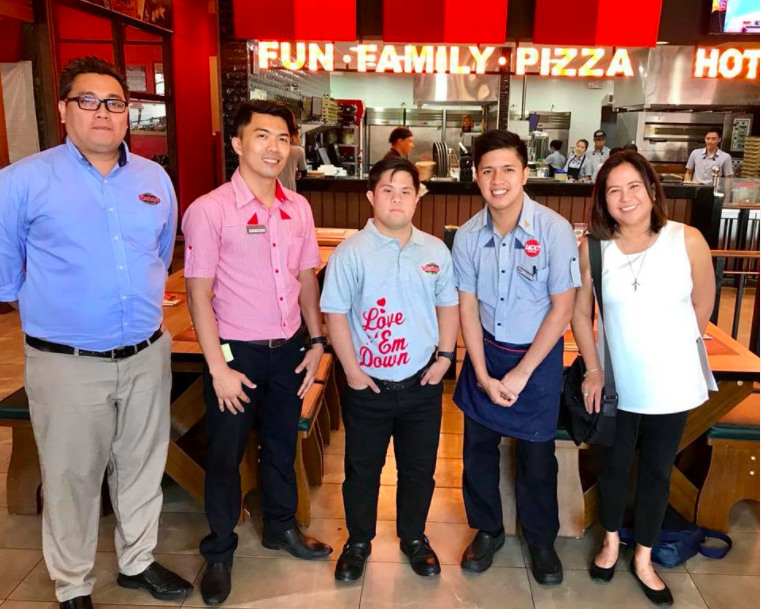 Manila, Philippines - Shakey's Pizza in partnership with the Down Syndrome Association of the Philippines, Inc. launched an amazing project called Project Love 'Em Down.
On a Facebook post by Agnes Lorenzana Lapeña , she shared the great news to all netizens. She mentioned that this project is indeed a milestone for persons with Down syndrome as they participate in real-life guest engagement activities in all Shakey's company owned stores.
She also shared a picture of her son, Jeremy Lorenzana Lapeña, in action as he cater the guests at Shakey's BF Paranaque store. Aside from Jeremy, Vicky Lou Pasia is also given the opportunity to work in Shakey's Magallanes branch.
Mrs. Lapeña shared her utmost gratitude to Shakey's and Down Syndrome Association of the Philippines, Inc. for giving their children the opportunity to work and be productive.
If you happen to see these kids, don't hesitate to show them so love.
Photos Courtesy of Agnes Lorenzana Lapeña
---
Feb 28, 2018 at 8:07 PM
Posted by : Marie Li
Filed Under : Food & Restaurants