LOOK: The Moffats Reunion Concert In Manila And Cebu
---
Sep 26, 2018 at 6:00 PM
Posted by : Marie Li
Filed Under : Entertainment
---
90s Kids where you at? The Moffats will be coming to town soon to perform their greatest hits.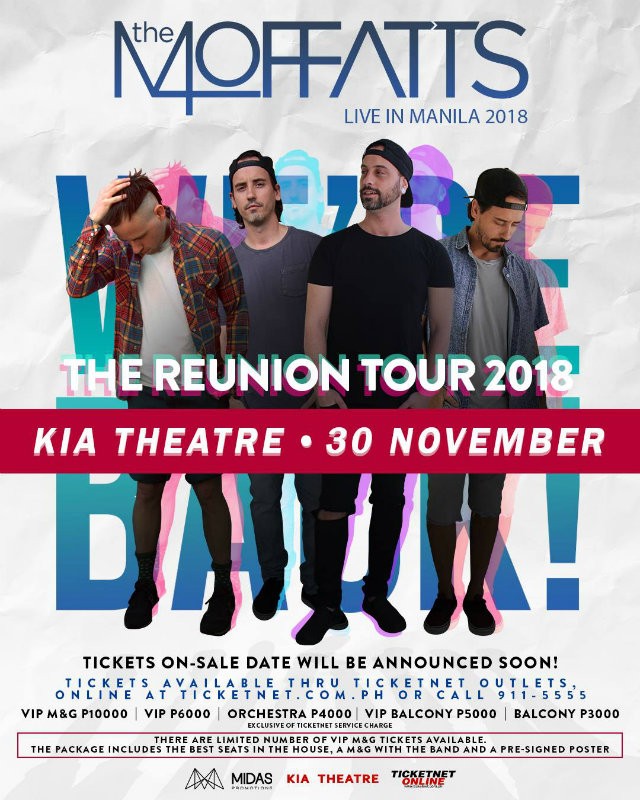 Manila, Philippines - Canadian pop/rock country band, composed of brothers Scott, Clint, Bob and Dave Moffatt will be performing in Manila and Cebu as part of their reunion tour.
The band started out as a country music vocal group during their childhood (1987) and disbanded on 2001. The band reunited for an online Christmas show on December 22, 2012 on Stageit. On February 2017, Scott, Bob and Clint Moffatt embarked on an extensive promotional tour in Asia for The Moffatts Farewell Tour. The group signed a record deal with Bec-Tero Music, Thailand.
Some of their greatest hits are "Miss You Like Crazy", "Girl of My Dreams" and "I'll Be There For You".
The Moffats will be performing on November 30, 2018 at 8PM at the Kia Theatre, Manila.
Aside from Manila, they will be performing on November 23,2018 at the Hoops Dome Arena, Cebu.
Midas Promotions announced that the tickets for the Manila concert will be available online and at TicketNet outlets on September 29, 2018 at 10AM. Ticket prices are as follows:
P10,000 (VIP Meet and Greet)
P6,000 (VIP)
P5,000 (VIP Balcony)
P4,000 (Orchestra)
P3,000 (Balcony)
The ticket prices are exclusive of TicketNet's service charge. The VIP Meet and Greet tickets are inclusive of VIP seats, a meet and greet opportunity with the band, and a pre-signed poster.
Tickets for the cebu concert to be announced soon. For more details, check Midas Promotions official Facebbok account.
Images Courtesy of Midas Promotions
Videos Courtesy of Wish 107.5, Halarylohaon YouTube
---
Sep 26, 2018 at 6:00 PM
Posted by : Marie Li
Filed Under : Entertainment