WATCH: December Avenue Feat. Moira Dela Torre's 'Kung 'Di Rin Lang Ikaw' MV #1 Trending On YouTube
---
Sep 26, 2018 at 4:18 PM
Posted by : Marie Li
Filed Under : Entertainment
---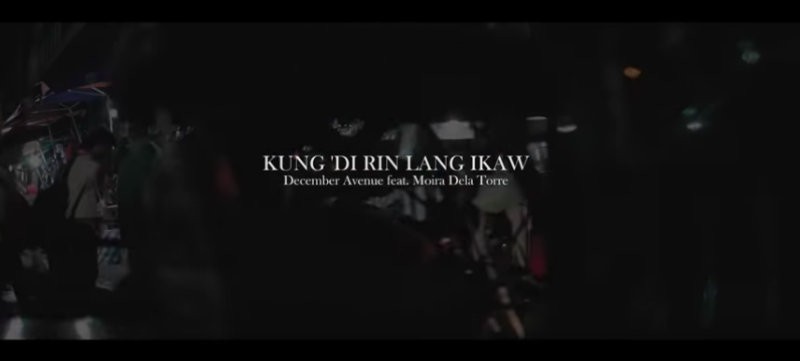 Manila, Philippines - Alternative and indie band December Avenue known for their "hugot" songs consist of Zel Bautista, Jem Manuel, Don Gregorio, Gelo Cruz and Jet Danao, has been serenading us for a decade.
Their hit songs are Eroplanong Papel, Sa Ngalan ng Pag-Ibig and Ears and Rhymes to name a few. The band is currently signed under Tower of Doom Music.
In Case You Missed It: December Avenue recently released the official Music Video of their song collaboration with Moira Dela Torre, "Kung 'Di Rin Lang Ikaw". The music video already reached the #1 spot on YouTube Philippines in less than a week.
The tear-jerker music video is about a guy's unrequited love with his childhood bestfriend. No more spoilers, just watch the "hugot" music video below:
What makes the video trending and indeed successful is the fact that many of us (at least once in our lives) experienced a painful unrequited love that made us feel we can never love anyone (as intense and deep as that) again.
The music video is produced by December Avenue, Tower of Doom and 8th Street Cinema.
Director/Editor : Andrei Antonio
D.O.P: Mark Antonio
Creative Producer/Production Manager: Angela Suarez
Camera Operators: Jesus Reyes, Karl Angelo Montenegro
Production Assitant: Ruiji Abarca
Talent Caster: Jaya Calapatia , Elmer Dusaban
Production Design: Joel Ontong
Talents: Baymax Magana Bayon, Cristine Gem Anicas, Art Golimlim, Mariah Clair De Luna, John Joseph Kim, Lexus Cabanting, Adrian Ibanez, Jess Adan, Willan Navarro, Joseph Piamante
We hope to see more "hugot" songs from December Avenue and Moira Dela Torre as they join the second season of Coke Studio Philippines with the theme "Homecoming".
Video Courtesy of Tower of Doom
Images Courtesy of Pinoy Secret Files and Lomograpika Design Studio
---
Sep 26, 2018 at 4:18 PM
Posted by : Marie Li
Filed Under : Entertainment